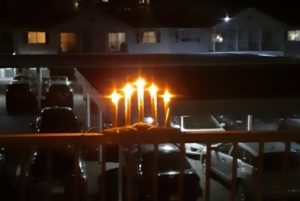 An open explanation for why the 5-candle candelabra on our railing. This tradition is from the East coast of Canada. We have travelled to Newfoundland and Labrador many times over the last 15 years and we learned this tradition from the local people.
In years past the fishermen of the many coastal communities would be out on the ocean and sometimes get caught in the thick, cold North Atlantic fog. The women were left back at the house to tend to the chores and families. It was when the fog rolled in that those in the homes along the shoreline placed candles in the window facing the ocean so that the fishermen could see the amber lights through the fog and know that there was hope to reach the rugged shoreline.
Lucy and I hope that as we navigate this unprecedented "fog" you will see our lights of hope and know that there is hope as we each do our part to get through this safely and with continued health.
With affection and gratitude,
Thomas and Lucy Baerg