COVID-19 not only challenges the body, isolation and an economy in crisis challenges the mind. Here we have inspiration, nourishment and ways to keep sane and be grateful, in spite of it all.
Communion with the Baergs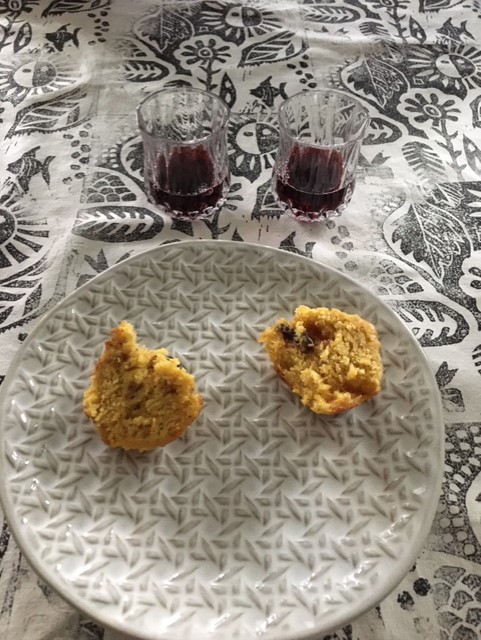 What if 2020 isn't cancelled by Leslie Dwight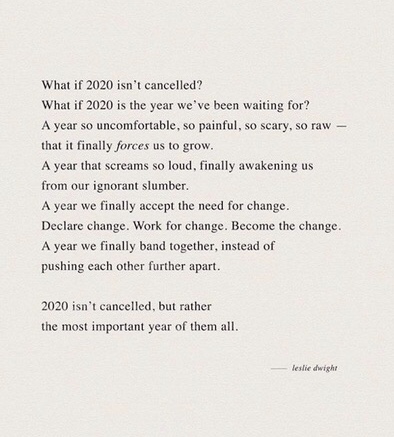 Joe Average Print Coloured by Nancy Illman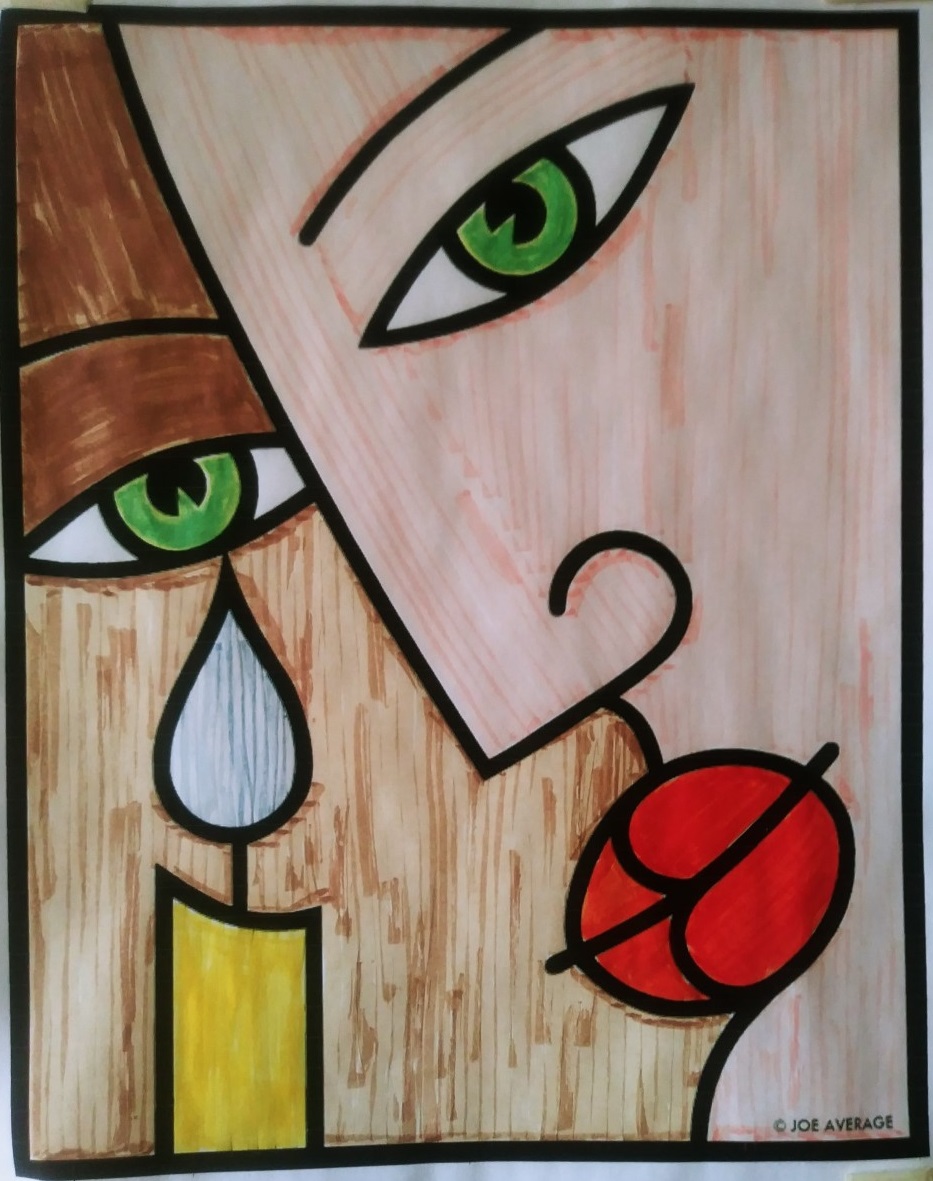 Game Changer by Banksy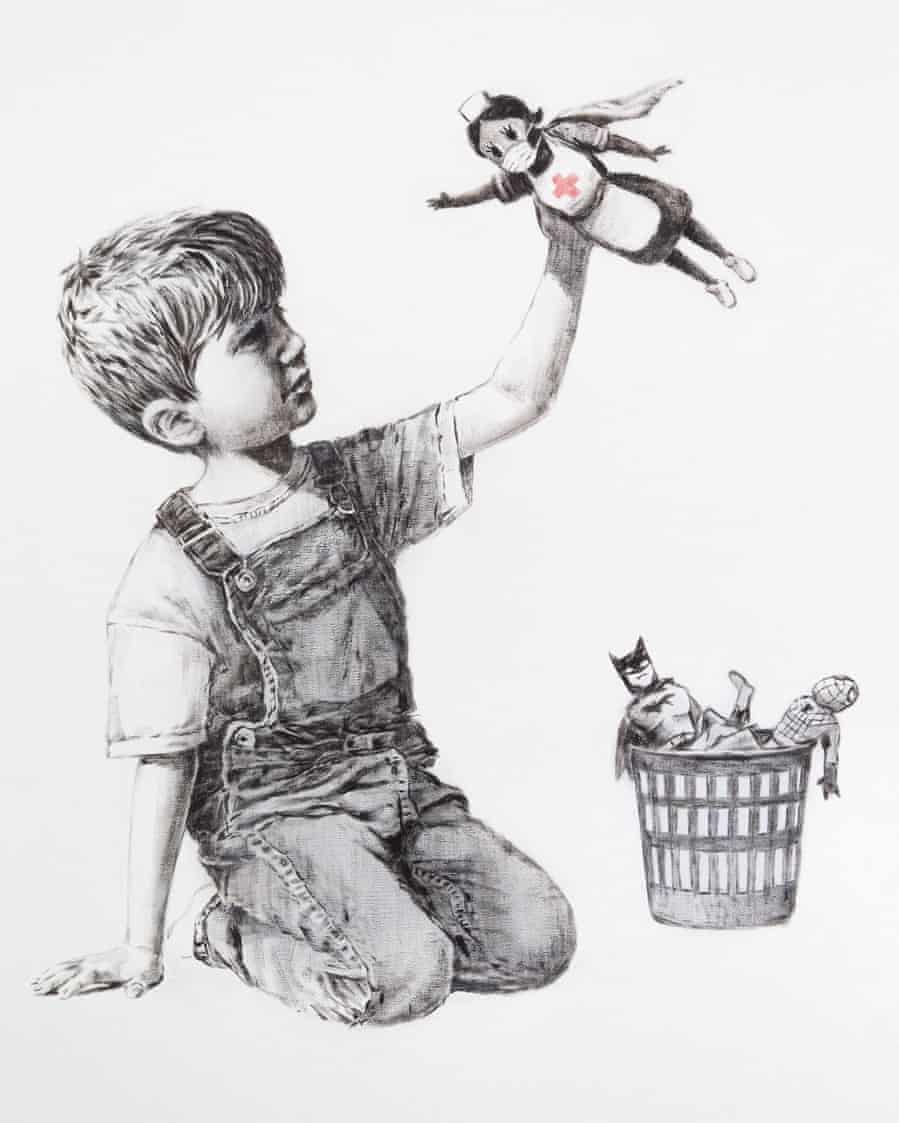 A new Banksy artwork paying tribute to National Health Service workers has turned up at Southampton General Hospital in England. The painting, titled Game Changer (2020), was delivered to the hospital along with a note that read: "Thanks for all you're doing. I hope this brightens the place up a bit, even if its only black and white." The hospital houses a significant testing facility that is currently running trials on potential Covid-19 vaccines.
Jacinda Ardern on "A Poem for Papatūānuku"
Thank you for the amazing response to this poem! I never expected it to travel so far and wide. Many people have asked who the author is so I wanted to clarify that.
I wrote this poem on the train home after the announcement of total lockdown was made here in Aotearoa, New Zealand. I felt like I could hear Papatūānuku – Mother Earth – exhaling in relief as we all began our journeys home. In truth, one month of lockdown is not enough. Even six months would not be enough! We need a total and sustained change of habit, globally and within our own communities.
I hope so much we take our time to reflect on the fact that if we can do it to save ourselves for a month, we ought to be able to make similar habit changes for Mother Earth for the long term.
The most telling thing for me was how empty our veggie plant aisles were after lockdown was announced – in a crisis, we will turn back to our mother to provide (and of course she will!).
Lots of people have asked for translations… Papatūānuku – Mother Earth (the addition of the "e" in front signals the words are addressed or spoken directly to her.) Ka turuturu te wai kamo o Rangi ki runga i a koe – means something like, "tears from the eyes of Ranginui drip down on you" (Ranginui is our sky father, it is common to refer to rain as the tears of Rangi for his beloved, from whom he was separated at the beginning of time in order that there could be light in the world). Not long after the announcement we were moving to level 3, it poured with rain in Porirua after many months of hot and dry weather. I could feel my garden rejoicing.
Hei aha – This can be translated in many ways, but I meant it like the English " oh well, whatever " He iti noaiho – "something small". Because our sacrifice feels enormous but in reality I think it is not sufficient to truly see Papatūānuku / Mother Earth recover. However, in Māori, we often talk about the significance of small actions or gestures. We say "ahakoa he iti, he pounamu." Although it is small, it is a treasure.
Thank you so much for the support.
By Jacinda Ardern (Prime Minister of New Zealand)
A Poem for Papatūānuku
A poem for Papatūānuku – Mother Earth by Ngāti Hine/Ngāpuhi writer Nadine Anne Hura, and
recently shared by Jacinda Ardern, Prime Minister of New Zealand
Rest now, e Papatūānuku ( Mother Earth )
Breathe easy and settle
Right here where you are
We'll not move upon you
For awhile
We'll stop, we'll cease
We'll slow down and stay home
Draw each other close and be kind
Kinder than we've ever been.
I wish we could say
we were doing it for you
as much as ourselves
But hei aha
We're doing it anyway
It's right. It's time.
Time to return
Time to remember
Time to listen and forgive
Time to withhold judgment
Time to cry
Time to think
About others
Remove our shoes
Press hands to soil
Sift grains between fingers
Gentle palms
Time to plant
Time to wait
Time to notice
To whom we belong
For now it's just you
And the wind
And the forests and the oceans
and the sky full of rain
Finally, it's raining!
Ka turuturu te wai kamo o Rangi ki runga i a koe *
Embrace it
This sacrifice of solitude we have carved out for you
He iti noaiho – a small offering which is a treasure
People always said it wasn't possible
To ground flights and stay home
and stop our habits of consumption
But it was
It always was.
We were just afraid of how much it was going to hurt
– and it IS hurting and it will hurt and continue to hurt
But not as much as you have been hurt.
So be still now
Wrap your hills around our absence
Loosen the concrete belt
cinched tight at your waist
– Rest.
– Breathe.
– Recover.
– Heal
And we will do the same.
This is the time to be slow… by John O'Donohue
This is the time to be slow,
Lie low to the wall
Until the bitter weather passes.
Try, as best you can, not to let
The wire brush of doubt
Scrape from your heart
All sense of yourself
And your hesitant light.
If you remain generous,
Time will come good;
And you will find your feet
Again on fresh pastures of promise,
Where the air will be kind
And blushed with beginning.  
 John O'Donohue
The image and poem are a contribution from the Rev. Gordon How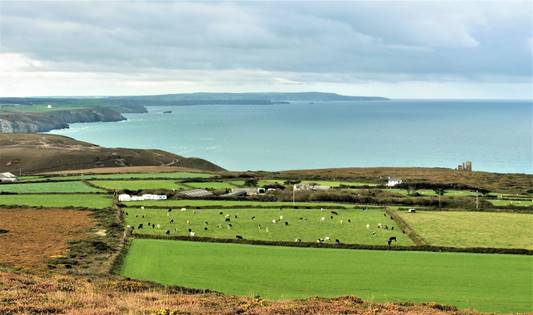 When this is Over by Laura Kelly Fanucci
When this is over,
may we never again
take for granted
A handshake with a stranger
Full shelves at the store
Conversations with neighbors
A crowded theater
Friday night out
The taste of communion
A routine checkup
The school rush each morning
Coffee with a friend
The stadium roaring
Each deep breath
A boring Tuesday
Life itself.
 When this ends,
may we find
that we have become
more like the people
we wanted to be
we were called to be
we hoped to be
and may we stay
that way—better
for each other
because of the worst.
 Laura Kelly Fanucci
Praying in Colour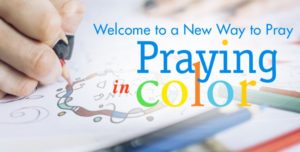 Blessing in the Chaos by Jan Richardson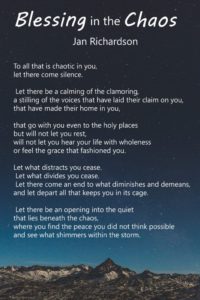 Now that we are done talking about the end of the world…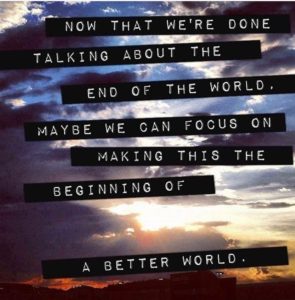 Prayers for Community in a Time of Pandemic – Corrymeela
Corrymeela is a community in Northern Ireland that works for reconciliation between Catholics and Protestants.  Their resources are well worth exploring; you can find beautiful poems and prayers for a community in a time of crisis, pertaining to the COVID-19 pandemic which has touched us all, one way or another.
Candles of Hope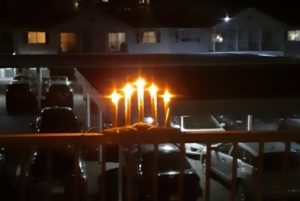 An open explanation for why the 5-candle candelabra on our railing. This tradition is from the East coast of Canada. We have travelled to Newfoundland and Labrador many times over the last 15 years and we learned this tradition from the local people.
In years past the fishermen of the many coastal communities would be out on the ocean and sometimes get caught in the thick, cold North Atlantic fog. The women were left back at the house to tend to the chores and families. It was when the fog rolled in that those in the homes along the shoreline placed candles in the window facing the ocean so that the fishermen could see the amber lights through the fog and know that there was hope to reach the rugged shoreline.
Lucy and I hope that as we navigate this unprecedented "fog" you will see our lights of hope and know that there is hope as we each do our part to get through this safely and with continued health.
With affection and gratitude,
Thomas and Lucy Baerg
This Is Just To Say by Tom Cull
I have eaten
the peanuts
and potato chips
and canned oysters
and trail mix
and rice crackers
and dark chocolate
and chocolate chips
that were in the pantry 
and which 
you were probably 
saving
for apocalypse 
Forgive me
they were delicious
and it was late
and I was bored 
Ode to Social Distancing – by Maria Spann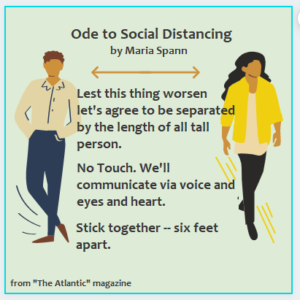 Lockdown
By Br. Richard Hendrick, priest-friar of the Irish branch of the Capuchin Franciscan Order
Words, poetic and prose, of Thomas Moore
'Though dark are our sorrows, today we'll forget them,
And smile through our tears, like a sunbeam in showers:
There never were hearts
More form'd to be grateful and blest than ours.'
A New Virus
Written by Rev. Don Robertson, a friend of our congregation and retired United Church minister
Sitting side-by-side in Church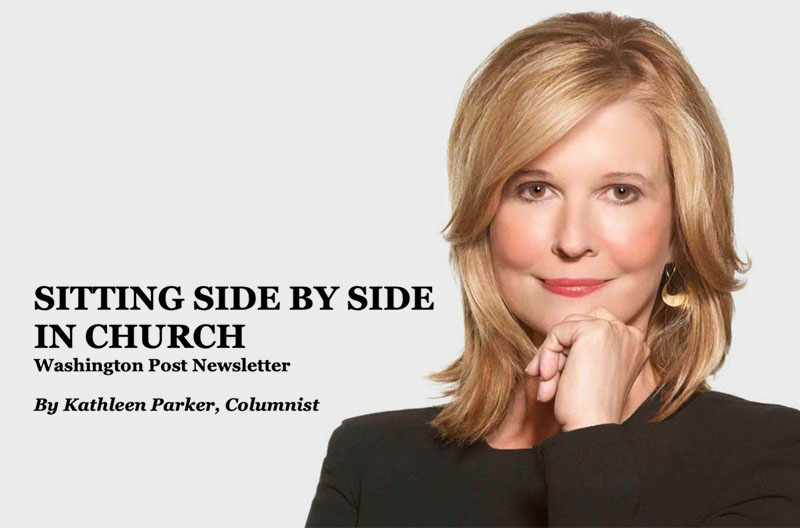 PAWLEYS ISLAND, S.C. — An odd thing happened last Sunday. A friend was visiting and invited me to join her for church — not in a physical house of worship but streamed via Zoom from her pastor in Arlington, Virginia.