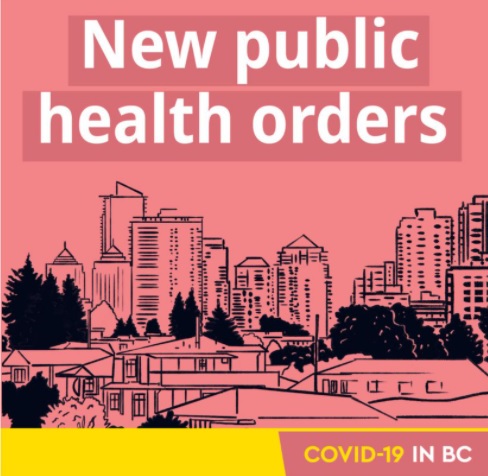 Dr. Henry has issued new public health orders for the Vancouver Coastal and Fraser Health regions. The orders require everyone in those communities, with the exception of Bella Coola Valley and Central Coast residents, to limit social interactions, until November 23. That means:
SOCIAL GATHERINGS:
• Socialize only with your immediate household. No parties or get togethers.
• No community-based social gatherings.
• No unnecessary travel. Stay in your local community.
• No receptions for funerals or weddings.
GROUP PHYSICAL ACTIVITIES:
• Indoor group physical activities must stop until new safety plans can be approved by local Medical Health Officers.
• Indoor sports where physical distancing cannot be maintained must be modified.
• Travel for sports into or out of these regions must stop.
Now is the time for everyone living in the Vancouver Coastal and Fraser Health regions to double down on the actions we know will allow our schools and businesses to stay open – and keep us safe.