Lunchtime recital schedule, Spring 2023
(All concerts are Thursdays, 12:15-1:00 pm)
Bring your lunch and treat yourself to some of Vancouver's best musical offerings! This by-donation concert features classical, gospel, jazz, folk and more! This Spring we celebrate the diversity of music in Vancouver. For more info music@standrewswesley.com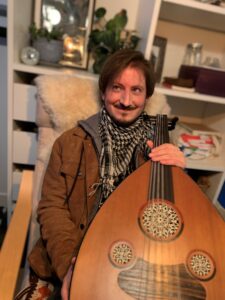 May 11, 2023
Michael Streit
Music changed for Michael Streit when he began studying the Iranian tar and classical Iranian music with Ustad Hossein Behroozinia in the mid 2010's. Here was a new world, a musical system whose differences to Western music challenged many assumptions. From this time learning in the Iranian tradition—still ongoing—Michael has since transferred his skills to the oud, which, as an instrument, is more universally heard within the cultures of the Middle East. Above all else concerned with respecting and honouring tradition, Michael continues to explore the common veins between the musics of this rich part of the world while remaining aware of—and nurturing—his personal involvement and voice.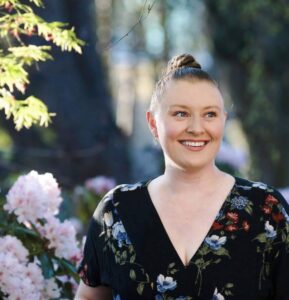 May 25, 2023
Tabitha Brasso-Ernst
Tabitha Brasso-Ernst is a graduate of Bishop's University, where she received formal classical voice training under Gail Desmarais. While in Quebec, Tabitha was awarded the silver medal in the national final of the Canadian Music Competition. She was a featured performer in the Vocal Arts Festival of Montreal and Opera Theatre of the Rockies Vocal Arts Festival in Colorado.
Tabitha has been a member of musica intima since 2020, and was a featured performer on their JUNO-nominated album Nagamo. She is thrilled to be touring the album across Canada in March. Tabitha also sings with the Vancouver Chamber Choir, and is a voice coach with the Vancouver Youth Choir.
Tabitha is gaining recognition as a concert soloist. Notable credits include Vaughan Williams' Dona nobis pacem, Copland's In the Beginning, Haydn's The Seven Last Words of Christ, Will Todd's Mass in Blue and David Millard's Requiem (world premiere). Most recently, she premiered the role of Betsy/Oscar in Camouflage Complex: The Art of Deception, based on the life of Betsy Warland.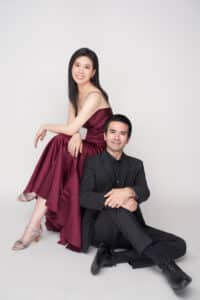 June 8, 2023
The Meeks Duo
The Meeks Duo (married Canadian pianists Scott Meek and Clare Yuan) is recognized for its groundbreaking inventiveness and uniquely diverse repertoire for piano duet. Scott and Clare's concert programs feature their own creative transformations of classical pieces into anything from Happy Birthday to Japanese pop, as well as standard duet repertoire and works by living composers. Scott has written nearly 100 piano duet arrangements and the number keeps growing!
Their music has been played on CBC and Fairchild Radio, and their albums are available worldwide all streaming platforms. Keen on promoting living composers and arrangers, Clare and Scott have had several new works and arrangements written for them, and they often perform works by lesser-known and female composers.
Clare and Scott have performed at such prestigious venues as the Taiwan National Concert Hall (Taipei, Taiwan), the Kay Meek Centre (North Vancouver, Canada) and the Vancouver Playhouse (Vancouver, Canada), as well as at museums, art galleries, private residences, universities, churches, and outdoor performances. https://www.themeeksduo.com/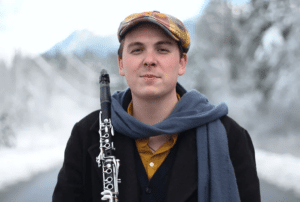 June 22, 2023
Benjamin MacRae
An experienced performer, composer, Benjamin MacRae is an accomplished clarinet, flute, & saxophonist from the Fraser Valley that is currently settled in Vancouver, BC. While Ben's most current musical endeavours are focused around the Grand Slam Jazz Band (https://www.grandslamjazzband.com/), working on his own material, and playing as a session musician for various bands in the traditional jazz idioms of the lower mainland, he has extensive experience working as a European classical musician, in Jewish Klezmer music, the wide span of Christian devotional music, contemporary/freely improvised music, and in various jazz orchestra settings. Ben was honoured to be one of the music directors at Brentwood Presbyterian Church in Burnaby BC for three years, and has helped to co-ordinate various jazz vespers programs, church music camps, and jazz summer camps aimed at forming the God-given gifts of youth and young adults. From weddings to funerals, dances to wakes; large shows to cozy in-home concerts; sacred settings to secular instances; teaching people of all ranges, abilities, backgrounds and identities; Ben is widely experienced in providing music for, and with, the people. https://www.macraemusicalservices.com/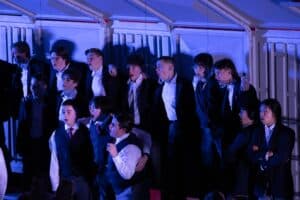 June 29, 2023
Grande Prairie Boys Choir
Led by director Jeannie Vanwynsberghe Pernal, The Grande Prairie Boys' Choir has been providing audiences at home and away with the gift of song from the hearts of 135 boys between the ages of 7 and 20 since 2001. Alongside intensive voice training, drama instruction, theory and sight reading in several smaller ensembles for several age categories, the choir produces 6 sold out concerts per year. Their most recent ambitions include producing an opera Amahl and the Night Visitors and Symphony and Singing in the City concert with professional orchestral musicians, singers and choir boys. The Senior and Men of Note Choirs have travelled Nationally to BC, and ON and internationally to Phoenix, Arizona. In 2016, they entered and won second place in the National Competition for Canadian Amateur Choirs and in 2016 were chosen out of 45 choirs to perform at the National Choral Conference in Edmonton where they premiered a choral piece Magnificat Anima Mea to huge acceptance. They won first place in Provincials in 2017 and traveled to Ireland on their first international tour.